AI for Receivables Finance Seminar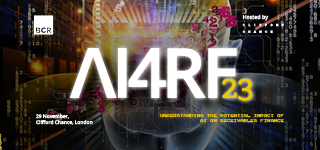 The potential use of AI and Generative AI "GAI" in the factoring and receivables finance industries has generated an unprecedented level of interest, excitement, anxiety, and opportunity.
Join the new AI4RF seminar, organised by our partner BCR Publishing, on 29 November, in the London offices of Clifford Chance for an active discussion of the key opportunities and challenges that AI and GAI are having on our industry now and in the future.
Click here for your Early Bird.
---------
 
About BCR
BCR Publishing is the world's leading knowledge provider in receivables finance. We create and deliver news, expert articles, in depth market intelligence data and events covering factoring and invoice discounting, supply chain finance, working capital management, and trade receivables securitisation.
 
BCR is an SME Finance Forum Industry Partner.
Discount access for SME Finance Members
Members of the SME Finance Forum get a discount access to that event. The discount code is available on the Member Portal.